Get in Touch
Tel: 514-999-0712
Fax: 514-221-2383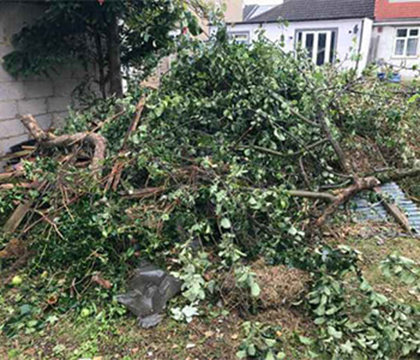 Are you overwhelmed with green waste piling up in your yard or garden? Looking for an eco-friendly solution to dispose of it responsibly? Look no further! Junk Removers is here to help you clear out your green waste while prioritizing the environment.
Environmentally Conscious: We are committed to sustainable practices. By choosing us, you contribute to reducing landfill waste and promoting a healthier planet. We ensure that your green waste is properly sorted and disposed of through eco-friendly methods such as composting or recycling.
Comprehensive Green Waste Removal: Whether you have branches, leaves, grass clippings, shrubs, or other organic materials, our team is equipped to handle all types of green waste. We provide a comprehensive service to clear out your yard or garden, leaving it clean and refreshed.
Efficient and Timely: We understand that green waste can quickly accumulate and become an eyesore. Our team works efficiently to remove the waste promptly, allowing you to enjoy a well-maintained outdoor space without any hassle.
Responsible Recycling and Composting: We go beyond mere waste removal. Whenever possible, we recycle or compost your green waste, giving it a new life as nutrient-rich soil or other eco-friendly products. By choosing the Junk Removers, you actively contribute to the circular economy and sustainable waste management practices.
Flexible Service Options: Whether you need a one-time green waste removal or regular scheduled pickups, we tailor our services to your specific needs. Our flexibility ensures that your yard or garden remains pristine, no matter the season or volume of green waste generated.
Transparent Pricing: We believe in transparent pricing, providing you with a clear understanding of the cost upfront. Our competitive rates ensure that green waste removal is affordable and accessible to all, allowing you to maintain a beautiful and tidy outdoor space within your budget.
Friendly and Professional Team: Our team is not only skilled in green waste removal but also friendly and courteous. We treat your property with respect, minimizing any disruption during the removal process. We prioritize exceptional customer service and strive to exceed your expectations.
Choose usl for a greener and cleaner environment. Contact us today for a free consultation and let us help you dispose of your green waste responsibly.
Call 514-999-0712 to schedule your green waste removal appointment now.
Cleaning up your gardens and outdoor spaces can be a very rewarding feeling, and make a huge difference to the appearance of your house or business. A big part of a successful garden or outdoor clean up is the removal of green and garden waste – there's no point having a beautiful garden or outdoor space with a massive pile of garden waste in the centre. We make your garden clean easy by safely removing and disposing of any and all unwanted items.
Some popular examples include green waste, dirt, old top soill, branches, debris clippings, bricks, rocks, deckings and more.
We offer same-day service to most of Montreal areas, and we'll have your gardenwaste loaded into our trucks and safely recycled. Get in contact now for a free quote!
Full-service junk removal and demolition for Montreal region, West Island, Laval, South Shore..
Free estimate.
Call now for a free quote.
Full-service junk removal and demolition for Montreal region, West Island, Laval, South Shore.

Free estimate.
Call now for a free quote. 514-999-0712